Registration income and our NIH conference grant together cover less than 70% of Symposium costs. The remaining ~30% must come from corporate, foundation, and individual contributions. Please consider supporting the Montagna Symposium on the Biology of Skin today.
2023 Support
Funding for this conference was made possible (in part) by (5R13AR009431-56) from the National Institute of Arthritis and Musculoskeletal and Skin Diseases. The views expressed in written conference materials or publications and by speakers and moderators do not necessarily reflect the official policies of the Department of Health and Human Services; nor does mention by trade names, commercial practices, or organizations imply endorsement by the U.S. Government.
The Montagna Symposium on the Biology of Skin gratefully acknowledges ongoing support from:
Major contributors are acknowledged in materials distributed to participants as:
Champion ($25,000+)
Sustainer ($10,000 – 24,999)
Benefactor ($5,000 – 9,999)
Patron ($2,500 – 4,999)
Associate ($1,000 – 2,499)
2023 Symposium Sponsors:
Castle Biosciences (Champion), Pfizer Dermatology (Sustainer), LEO Foundation (Champion),  David M.C. Ju Foundation (Benefactor), Janssen (Benefactor), Knight Cancer Institute (Associate), CTA Pathology (Associate), Orlucent (Associate), Lumo (Associate), Sklip (Associate), EltaMD (Associate)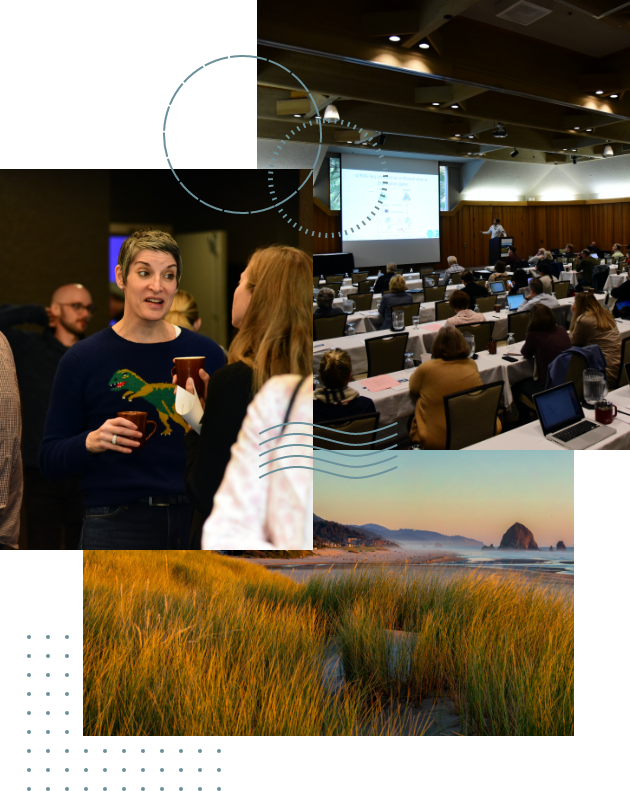 Why your support counts
Since its founding, over 5,000 researchers, clinicians, and young investigators from all over the world have attended the Montagna Symposium on the Biology of Skin. With your help, the Symposium will continue to fulfill its mission to thoroughly cover one aspect of skin biology annually, identifying unsolved problems and long term goals; to allow the exchange and acquisition of new knowledge on a formal basis and provide a proving ground for new concepts, as well as sharing information with the greater scientific and medical community; to integrate topics at the interfaces of disciplines, fostering new collaborations and developing and translating animal models, where necessary, to human benefit; and to encourage young investigators in pursuit of careers in academic and investigational dermatology by interacting with established scientists and physicians.
If you are interested in making a tax-deductible contribution to this historic meeting, please contribute online or endorse your check to:
Oregon Health & Science University Foundation / Montagna Biology of Skin Education Fund (Taxpayer ID number 23-7083114)
and mail to:
OHSU Foundation
Montagna Biology of Skin Education Fund
Attn: Tim Coffey & Elizabeth Stoos
P.O. Box 29017
Portland, OR 97296
Learn more about the Biology of Skin Foundation!
Join us in support of the Biology of Skin Foundation Montagna Symposium Fund – opportunities to be acknowledged forever at the annual Montagna Symposium on the Biology of Skin.
Nancy P. Durr in memory of Norman Orentreich (1923-2019)
The Procter & Gamble Company
Almirall LLC
Molly Kulesz-Martin, Ph.D.
Jon Hanifin, M.D.
Sancy Leachman, M.D., Ph.D.
CTA Lab, Curtis T. Thompson, M.D.
Neil A. Swanson, M.D.
Sun Pharmaceutical Industries, Inc.
Xiao-Jing Wang, M.D., Ph.D.
Carolyn I. Hale, M.D.
James T. Elder, M.D., Ph.D.
Mark R. Pittelkow, M.D. in honor of H. O. Perry, R. K. Winkelmann and R. B. Pittelkow
Bogi Andersen, M.D.
Dennis R. Roop, Ph.D.
Nicole Ward, Ph.D.
Diane Baker M.D., FAAD in honor of William Montaga
Gerald G. Krueger, M.D.
Barbara A. Gilchrest, M.D.
Christopher Bichakjian, M.D.
Yuangang Liu, Ph.D. and Zhiping Wang, Ph.D.
Johann Gudjonsson M.D., Ph.D.
Niroshana Anandasabapathy, M.D., Ph.D.
Jodi Johnson, Ph.D.
Clara Stemwedel, M.L.S.
Richard Spritz, M.D.
Li Zhu, Ph.D., M.B.A
Jeanett Segal, M.D.
Adam Gnall
Ken Kulesz